EOA provides cost-effective environmental data and information management services including:
Management, development, and analysis of GIS data layers
Design and maintenance of Microsoft Access databases to house environmental monitoring and regulatory data
Development of graphical-based reporting utilities to display environmental and process control data
Assistance in customizing commercial data management systems to meet client needs
Multi-program database oversight and coordination, data transfer utilities
Assessments to determine environmental data collection needs and strategies
Data types currently managed for clients include wastewater laboratory data; biological, chemical, and physical receiving water monitoring data; facility inspection and illicit discharge information; and land use and pollutant generation data.
EOA provide clients with cost-effective tools to manage and easily access the information necessary for NPDES compliance reporting, monitoring data analysis and interpretation, and effective watershed management.
---
CASE STUDIES
---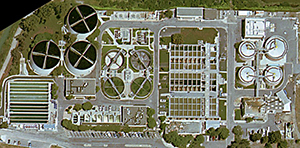 SunLab Laboratory Data Management Application
City of Sunnyvale Water Pollution Control Plant
EOA developed a laboratory data management application for the City of Sunnyvale Water Pollution Control Plant that  manages data generated by the laboratory for NPDES permit compliance and plant process control, along with certain other plant process control data. Using Microsoft Access, the multi-user "SunLab" program was custom designed to match WPCP laboratory workflow and is structured to provide all information required for electronic compliance reporting. The SunLab application includes input utilities to transfer data electronically from contract lab electronic data deliverable (EDD) files, and output utilities to generate the eSMR-compatible compliance file, a plant process control report, and a laboratory QA/QC report. A powerful and user-friendly query tool was developed that allows users to query analytical data (and associated metadata) for any parameter at any sample location over a user-specified time period. 
---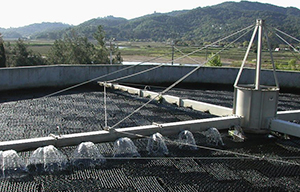 Data Management Applications
Las Gallinas Valley Sanitary District
EOA configured two commercially available data management applications for use by the treatment plant, and provides ongoing support for both. For laboratory analytical data and other NPDES compliance or plant process data, EOA configured the Allmax Software Operator 10 database with over 200 parameters and 40 sample locations, and numerous values derived from the these values. Data entry screens were developed to match laboratory work flow and facilitate electronic input where possible, and additional screens were developed that mirror the SWRCB's electronic self-monitoring report (eSMR) data entry tool. Annual summary screens were developed for use in the NPDES, reclamation, and biosolids annual reports.
EOA also assisted LGVSD in implementing the Antero computerized maintenance management system (CMMS) for use in managing information associated with treatment plant and collection system pump station equipment.  EOA developed a hierarchal asset identification system for use by the system, and compiled the initial list of over 400 equipment items and their associated maintenance needs and frequencies. The plant is currently transitioning to use of the CMMS to generate preventative and corrective maintenance work orders.
---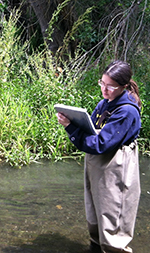 Creek Status Monitoring Information Management System Development and Coordination
BASMAA Regional Monitoring Coalition (RMC)
On behalf of BASMAA, EOA developed the RMC Information Management System (IMS) Workplan for Creek Status Monitoring data, which included the entire process of managing data from field collection, to data entry and review and reporting. It documented key decisions made regarding the role of a centralized database manager, responsibilities of data generators, responsibilities of data coordinators, Stormwater Program's access to data, standardized field forms, standardized laboratory electronic data deliverable (EDD) files, quality assurance and quality control and standardized key program, site, location and sample identifiers for the IMS database and comparison with other data sources. The IMS format is compatible with the State Water Resources Control Board Surface Water Ambient Monitoring Program (SWAMP) and provides a mechanism for sharing data among RMC partners to produce an integrated regional assessment of Bay Area watersheds.
In addition, EOA staff serves as the RMC Data Management Coordinator and serves as a liaison with the SWAMP data management team and coordinated data management of five stormwater programs. The database contains creek status monitoring data related to water quality, sediment quality, toxicity, physical habitat, benthic macroinvertebrates and algae.